One of the most rewarding things you can do is volunteer at your church. In your membership vows, you pledged to support the church with your prayers, presence, gifts, service, and witness. The Volunteer Ministry at First Methodist Houston provides an avenue for you to serve in love and help others while receiving a blessing to yourself and growing in your relationship with God.
Be a part! We want everyone to join us in serving God in the church and in the community. There's a place for everyone!
For more information, contact our Volunteer Coordinators, Carolyn Harris for Downtown and Celecia Martinez for Westchase.
OPPORTUNITIES TO SERVE IN THE CHURCH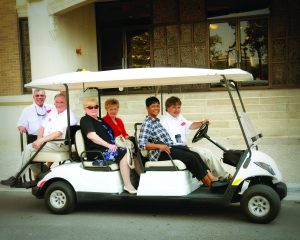 GOLF CART DRIVER (Downtown Campus, Early Service)
Drivers are the first point of contact for visitors and members attending church by providing rides from the parking lot to the front door of the church. This service is provided before and after the 9 and 11 am services every Sunday – weather dependent. Volunteers are scheduled by church service time, so there are separate drivers for each church service. Drivers must be at least 21years old to 75 years.  Prospective volunteers are always welcome to do a ride-a-long with a current driver to see if this is a way they can help serve the church.rivers to provide before/after service rides to/from the parking lot to Church.  Texas Driver's License &  proof of insurance required.
Time commitment:  1 hour before church and 15 minutes after church service at least once a month
USHERS
Serve on Sundays by interacting with the congregation by providing bulletins, assisting with seating, parking walkers and passing collection plates.
Time commitment: Anywhere between one and all Sundays of the month
GREETERS
Time commitment: Varies from Special Occasions or 5th Sundays or one Sunday a month.  Shifts run 30 minutes.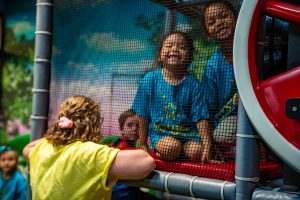 INDOOR PARK GREETER (Downtown Campus)
Set out toys, table activities, and start the music for children who come to the Indoor Park with their parents or nannies.  Greet them as they come and go, then do minor clean-up and straightening afterward.
Time commitment: Tuesday and/or Thursday from 9 a.m. – noon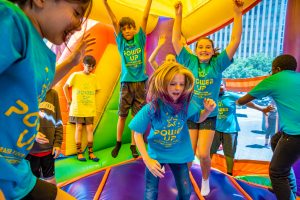 FIRST KIDS GREETER
Greet children and families as they arrive in the Children's areas on Sundays.  Need two volunteers on first floor and two on second floor.  Welcome new families and walk them through the first time visitor process. Assist children and parents in check-in using the REALM system. Must pass a background check and complete Safe Sanctuary training.
Time commitment: Minimum of two Sundays a month commitment. 9:30 am to 11:15 am.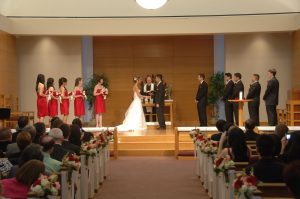 WEDDING GUILD VOLUNTEER
Time commitment: 1-hour commitment on the day of rehearsal (typically Friday) and 4-hour commitment the day of the wedding (typically Saturday). Need 2 volunteers per wedding.
LIFELINE TO THE HOMELESS (Downtown Campus)
Help serve our homeless clients.  Volunteers typically will work the desk and help clients individually with food, clothing and other items we provide.  In addition to this, there is sorting of clothing, making lunches, and miscellaneous duties.
Time commitment: Lifeline hours are 9:15 – 11:30 am, Monday – Thursday.
LIFELINE SUNDAY SCHOOL HOSPITALITY (Downtown Campus)
Provide Christian hospitality to our Lifeline Sunday School class members. Welcome class members, assist with registering and storing backpacks, supervise coffee time, put out bibles, set out breakfast and help serve as needed.  Help monitor the class members during class.  A training class will be required.
Time commitment: Two volunteers per Sunday are needed from 9:15 – 10:50 am.
HOSPITAL LIST VOLUNTEER (At home position)
Volunteers take one day per week sending out the Healing and Caring Report about members who are in the hospital, in rehab or hospice.  Orientation, training, and standby help are available. Depending on how many people are in the hospital and whether missing information must be tracked down, as well as your own work speed, the task takes anywhere from 15 minutes to an hour.  Volunteer will be able to work from home and choose the day.
Time commitment: Choose from Monday, Tuesday, or Friday
Other volunteer opportunities include pew guild, communion stewards, registration pad collectors, sewing ministry, prayer shawl ministry and letter writing team.
SPIRITUAL GIFTS ASSESSMENT