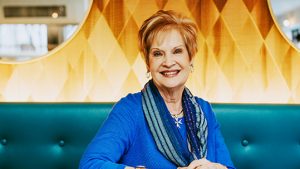 Campus Pastor Downtown
Rev. Ann Spears
Ann Spears grew up in a South Charleston, West Virginia, and graduated with a B.A. in Language Arts-English, Speech and Journalism. She received her Secondary Education from the University of Charleston, which was originally founded as a private Methodist College. It was in that place that Ann's journey with Christ began with her extended family and friends. Ann moved to Houston in the summer of 1970 and immediately began to work in the public school.
After a long and joyful career in public education and school public relations, Ann heard the overwhelming call to be ordained in the ministry. To be obedient and to answer that call, Perkins School of Theology and Garrett Evangelical Theological Seminary were the schools she attended for her theological education. Ann came to First Methodist Houston in January of 1997 and was ordained as a Deacon in the Texas Annual Conference in May of 2010. Ann has a deep passion for the people of Haiti and she has led mission trips there for the past eight years. Additionally, her love for the local church, a love she has had since a child, keeps growing. Seeing the challenges ahead keeps motivating her to help do all she can to strengthen the church at all levels. Ann also serves as Chair of the Ordained Deacons for the Texas Annual Conference and is on the Board of Ordained Ministry.
Ann is married to Max and they have five adult children and 12 grandchildren.