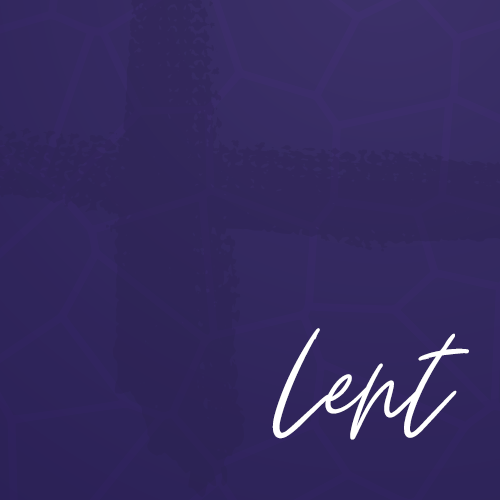 Lenten Prayer for February 23, 2021
Good and Gracious God,
As we enter this season of Lent, our thoughts rush ahead to Easter. We don't want to face Lent and the cross that looms before us because it is a stark reminder that Jesus suffered and died for our sins. Reading the Biblical accounts of Jesus' last days on earth is difficult when we realize we are so much like the people who lived in Jesus' day.  We can picture ourselves in the crowds who greeted Jesus with shouts of "Hosanna!" as He entered Jerusalem and, only days later, cried "Crucify him!" We see ourselves in the disciples who fell asleep when Jesus asked them to watch and pray, in Judas who betrayed Jesus, and in Peter who denied Him not once, not twice, but three times. O God, it is so much easier to skip over these dark, somber days of Lent and jump into the glorious celebration of Easter.
We pray for the discipline to take this Lenten journey seriously. During this time of reflection, Lord, we pray that you would open our eyes, ears, minds, and hearts to you and to your call on our lives.  As we spend time each day reading Scripture, meditating, and praying, please quiet our hearts and minds to listen for your still small voice. Convict us. Bend our will to yours. Teach us to be more like Jesus. Give us courage to step out of our comfort zones and follow wherever you lead.  Help us to live lives that bring honor and glory to you, Father Almighty.
Lord, we thank you for these days of Lent and ask that you bless us as we draw closer to you.  Keep us ever mindful of your perfect love for us as evidenced by the gift of Jesus. We know there is no greater love than the love shown to us by Christ as He willingly gave His life for us. And, for Jesus' sacrifice which overflowed with mercy and grace, we offer you, O Lord, our thanks and praise. In the holy name of Jesus, our Lord and Savior, we pray. Amen.
Written by:  Treva Kigar (Associate Director of Caring Ministries)